I think you read these lists and think that all I do is shop. Well, that's only PARTIALLY true. I do shop, but it's because my family insists on these things called "groceries". They're so needy about these damn "grocery" things that I'm forced to go at least once a week. And you'll notice that 95% of what's in my lists can usually be purchased at a magical place that contains not only "groceries" but also STUFF. FOR ME TO BUY.
Also, I'm going to tell you a bit about why I cried at work today.
This? Is what the kids call a "tissue tee". For YEARS, I have walked by these racks and determined myself too fat to wear them. I don't know why. It didn't make any sense. Then I caught a bunch of them on sale at Target and thought, "Why the hell not?" and I bought two. Then I wore one and it was like the heavens parted and I was all YES, THIS IS MANNA FROM THE HEAVENS IN COTTON FORM and I immediately went back and got one in every color they had. I would still buy more. And? Right now, they're $8 a piece, and totally worth it. They're amazing for layering, so whisper soft, and .. look, if I can wear them, ain't no one too fat.
I don't own this yet, because my Target only has it in stock in the obnoxious coral (which, you know, if you love coral, that's GREAT for you, but please don't stand next to me) AND in the wrong size. But I want this because I love the detailing around the neck makes it a stand-alone piece, but the close-to-the-body cut makes it great for layering. (HAVE I MENTIONED MY LOVE FOR LAYERING TODAY?)
Psssst.. layering.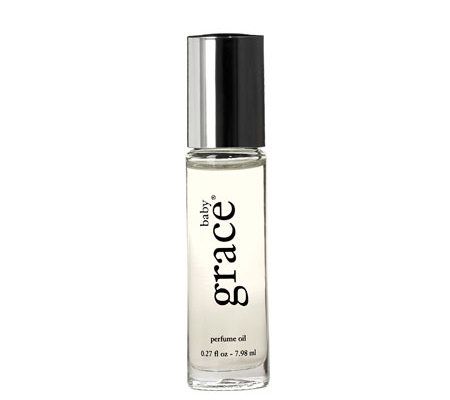 I have been an Amazing Grace girl FOR YEARS. I started wearing it when I started dating Bryan, I restocked when I delivered Tony, and I still order the
AMAZING QVC deal
on body wash and bath lotion. But when I reordered my wash/lotion combo, I just kept eyeing this roll-on perfume for Baby Grace. I had always wondered about the scent, since it was the only Grace I hadn't tried, but I didn't want to invest the $50 in the cologne to find I didn't like it. So, I figured spending half of that to see if I like it was a worthy investment. Turns out? I LOVE IT. OMG. I put it on, like, a hundred times a day (which tells you that the cologne would last longer, but whatevs), and the smell is just .. it's just cashmere in a bottle. Warm, inviting, comfortable, slightly dark, it's just .. mmm. LOVE LOVE LOVE IT. MAJOR HINT TO BRYAN.
Now, on to why I cried today at work:
MY OFFICE IS ON THE SECOND FLOOR.
Ronda and I started doing
this local bootcamp thing
yesterday and ... WOW. Seriously, y'all. You can read about our first day at
Southern Fried Snark
and .. WOW. Y'all, I THREW UP, it was so freakin' intense. I literally went home and told Bryan through waivering lips and tearful eyes, "I don't think I can do this." To which he was all,
Pssh, you run 5KS AND SHIT.
So anyway, this was morning two, and while I woke up sore, Ronda and I actually ENJOYED this morning's session. We weren't crazy tired like yesterday and we got to do some great yoga while the sun came up. THAT'S SOME INSPIRATIONAL SHIT RIGHT THERE.
Then, it hit.
The SORE.
Right at noon, she called me. "PLEASE tell me you hurt too," she whimpered.
"I can't sit down to pee," I cried.
"Everything hurts.." she moaned.
"I cried going up the stairs to my office," I whined.
"I HAVE STAIRS IN MY HOME," she countered.
Anyway, we are totally loving this.
Some stuff I've found that rocks my world for working out:
It's like regular Febreze, but it's SPORTY. And seriously knocks odor on its ass.
Ditto.
I have an .. issue .. where if I drink something that I have to tip up, it immediately splashes me on the face. This Camelbak bottle is not only BPA-free, but it has a bite-straw so you don't have to tip it up. I literally get half of my daily required intake of water before 6:30 a.m. due to this thing.
Lastly, the C9 running shorts found at Target. I'm sorry, but I just refuse to believe that there is a better running short out there. This one has a built-in brief, which is awesome for gals like me who don't wear underwear, it's not crazy short like some running shorts, and it's cut generously for ease of movement. There's also a little pocket sewn into the inside of the waistband for a key or some change or something small. Also, it's like 1/9th the price of any other running short. LOVE.
Here's the part where I ask you what you've bought lately, so that you can enable my addiction.